News
Meet our Dental Therapist: Kindergarten educational visit
Landale Dental's Dental Therapist teaches kindergartners all about keeping their smiles healthy!


Debra Harper gives another valuable educational visit to a local kindergarten! Deb makes learning fun for children, showing them how to keep their smiles clean and their teeth healthy with interactive learning about hygiene & diet as well as providing with learning aides and hygiene tools to get them started. The kids loved with great feedback from the staff and children. Part of Landale Dental's mission to provide education and service to the community to prevent dental problems.
Public Holiday Hours
Melbourne Cup Day closure.
Landale Dental in Box Hill will be closed on Melbourne Cup Day, Tuesday 5th November 2019.

Landale Dental in Box Hill will return to normal business hours on Wednesday 6th November 2019.
For emergency dental care, please call The Royal Dental Hospital of Melbourne on (03) 9341 1000.
For non-urgent matters please visit our website, facebook message, email or call to leave a voicemail for us.
Wishing you all a safe long weekend from the team at Landale Dental in Box Hill!
Keep up to date by liking us on: www.facebook.com/landaledental/
Competition Time
To celebrate Dental Health Week 2019, we are giving away an Oral B Pro 2000 electric toothbrush valued at $159. Can you guess how many toothpaste tubes are in the bowl? To enter, simply visit our facebook page "Landale Dental" and like the competition post and make your guess in the comments section. Winner will be announced on Sunday 11th August and can collect their free electric toothbrush from Landale Dental in Box Hill.
Visit: https://www.facebook.com/landaledental/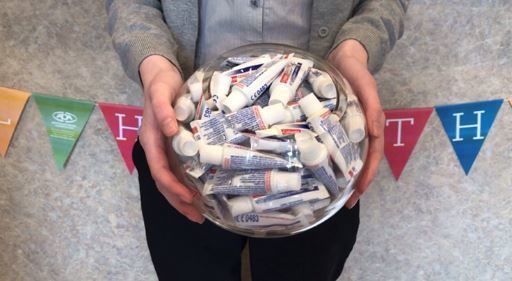 Landale Dental celebrates World Oral Health Day
Landale Dental in Box Hill are excited to celebrate World Oral Health Day on March 20th 2019! This year, the annual event run by the FDI: World Dental Federation is focusing on the notion of the mouth serving as a window to the body and reflecting overall general health. Healthy mouth = Healthy body.
No matter what stage of life you are in, healthy teeth and gums are one of the prerequisites to having a healthy body and maintaining a quality of life. Your dentist is one of the most important people in assessing your teeth, gums and mouth to help detect and prevent any serious diseases.
Sun damage to the lips, smoking, alcohol and other factors can increase the risk of mouth cancer – our dentists are in a prime position to perform cancer checks of your entire mouth.

There is strong evidence that proves gum disease is a risk factor for diabetes and heart disease. Early detection and management of gum disease by your dentist can therefore improve your overall health and reduce complications associated with heart disease and diabetes.

Did you know our dentists can also screen and assist in the diagnosis and treatment of jaw pain and sleep apnoea, which is a high risk disease affecting the population?

The mouth acts as a window to screen for other diseases; and early detection and management can be life changing. Too often young children present with advanced tooth decay and the subsequent tooth abscess, swelling and fever opens the door to further health implications which can only be managed under a hospital setting. Tooth decay is preventable with a healthy diet, good oral hygiene and regular visits to the dentist once your child's first tooth appears. Practicing good oral hygiene and maintaining visits with your dentist to receive personalized information, can contribute to a lifetime of improved well-being.
It is never too early or too late to start looking after your mouth. Your body will thank you for it!

Landale Dental in Box Hill are active members of the Australian Dental Association and have serviced the area for 18 years. Landale Dental in Box Hill is excited to be promoting this great oral health initiative with our patients and the wider community.

If it's been a while since you've seen a dentist or you feel you may have a concern, then schedule that appointment.

Get tailored & personalised advice, call 0398990148 or email enquiry@landaledental.com.au
Practice Accreditation
| | |
| --- | --- |
| | Landale Dental in Box Hill is proud to announce it has been recognised for our exceptionally high standards as an Accredited Dental Practice in Australia. Special thanks to our hard working team of clinicians, support staff and our practice administrator for their hard work. We have been accredited to the National Safety and Quality Health Service Standards! |
Come visit our newly renovated second treatment room!
Landale Dental in Box Hill has expanded! We now have a newly renovated second treatment room, meaning we can offer our patients more appointment time options – including evenings and Saturdays. Our second treatment room is bright, spacious and fresh. Along with the renovations, Landale Dental has expanded its team and welcomes Dr Vinny Wang who is available on Thursday evenings and Saturdays. Dr Vinny Wang is also fluent in Chinese (Mandarin) – read more about Dr Vinny in "Our Team."


Landale Dental in Box Hill is also pleased to now offer nitrous oxide ("happy gas") or relative analgesia for anxious patients and children if required. Call us on 98990148 to speak to our friendly staff about this.
Child Dental Benefit Scheme Update
Child Dental Benefit Scheme Update Great to see Channel 7 television news this evening report on the achievement of the Australian Dental Association in its advocacy for the health of children. Landale Dental dentists are proud members of the ADA and support better health for the children of our community. We bulk-bill on the spot for all eligible children on the Medicare Child Benefits Dental Scheme (CDBS).
Landale Dental Makes Box Hill's Local News!
| | |
| --- | --- |
| | Landale Dental in Box Hill made a special appearance in the Whitehorse Leader newspaper in recognition for their promotion of Dental Health Week. We are very proud of the whole team for their contribution in spreading awareness about Dental Health Week in the local community! |
Informative Video on Landale Dental
| | |
| --- | --- |
| | See our video link for more information about Landale Dental in Box Hill: |